Address
201 Kennedy Drive, Cambridge TAS 7170
Phone
1800 121 421
Email
info@campervanvillage.com
Opening Hours

| | |
| --- | --- |
| mon - fri: | 9am - 3pm |
| sat: | 9am - 11am |
| sun: | CLOSED |

Availability

pickup

dropoff

After-hours allowed

pickup

dropoff
*After hours pickup or dropoff may incur additional fees.
Hey there, wanderlusts! Are you looking for a new travel destination that offers a unique blend of culture, history, and natural beauty? Look no further than Hobart.
Hobart is known for its charming historical buildings and streets that make you feel like you're walking through a different era. Take a stroll through the Battery Point and Salamanca Place neighbourhoods and you'll see what I mean.
But that's not all, Hobart is also a foodie paradise. With a thriving restaurant scene, you'll find everything from farm-to-table eateries to seaside seafood joints. And let's not forget about the drinks, Hobart has a great selection of local craft beers and ciders, as well as some of the best Tasmanian wines.
Hobart is surrounded by stunning wilderness areas, such as Mount Wellington, which offers panoramic views of the city and the River Derwent. And if you're up for an adventure, you can take a day trip to the nearby Bruny Island and hike to the spectacular Cape Bruny Lighthouse.
Hobart is a destination that offers something for everyone, you can explore the city and its surroundings at your own pace in a campervan. So pack your bags, grab and discover the hidden gems of Hobart. Trust me, you won't regret it!
Plan your Hobart roadtrip today
Book online of contact our friendly travel team today to discuss your dream road trip in Hobart. We'll help you out with availability, a quick quote or to book your camper today.
Give us a call today.
1800 121 421 from Australia
0800 445 981 from New Zealand

Travel Ideas for Your Next Aussie Adventure
Whether you're looking for sun, sea, sand or snow, Australia has a scenic road trip destination to suit everyone. From day trips to extended journeys, here are 10 top picks to consider for your next getaway.
Places to check out around Hobart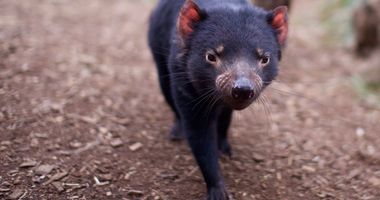 Bonorong Wildlife Sanctuary
A visit in Tasmania is not complete without seeing an iconic Tasmanian Devil - and there's no better place for this than a sanctuary whose mission is to look after these creatures and preserve the Tasmanian wildlife. For many animals, Tasmania is a last refuge and Bonorong Sanctuary want to make sure that these animals have a survival chance. Just 30 minutes north from Hobart, it's a well invested experience - you will even see koalas, wombats, Tasmanian devils, free-roaming kangaroos, and more.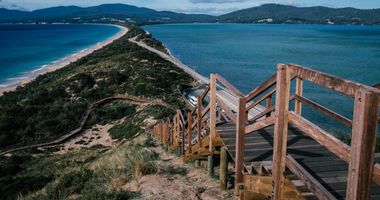 Bruny Island
Renowned for it's variety of wildlife, Bruny Island is a coastal destination with countless of beaches and freshwater fishing spot - the island is accessible by ferry from the town of Kettering, only 35 minutes south from Hobart. There's a lot of walking trails, and if you are looking for water activities, you will easily find something for you. If you like quiet and peaceful place, then come to the Bruny Island and stay a few days in this paradisiac setting.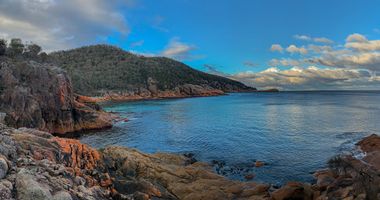 Freycinet National Park
The beauty of the Freycinet National Park will be hard to forget - from the white beaches to the turquoise sea and the Hazard Ranges, this location will feel like paradise. One of Tasmania's most photographed spot is at Wineglass Bay lookout and can be access via a short scramble trail - Wineglass Bay is also one of the top 10 beaches in the world! At Freycinet National Park, there is plenty of another walking track available, so you can stay there with your campervan and spend days exploring this place.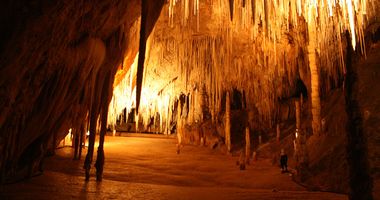 Hastings Caves and Thermal Springs
Only 90-minute drive south of Hobart, the Hastings Caves and Thermal Springs is a place to discover spectacular subterranean formation and finish your day in a natural warm thermal pool - the pool temperature stay around 28 degrees Celsius, a very enjoyable temperature. The reserve give access to picnic and barbeque area but there is no camping spot. However, around the reserve there's a few camping locations for your campervan.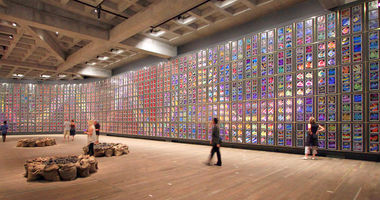 MONA (Museum of Old and New Art)
If you are interested in art and antiquities, the Hobart region is home of Australia's largest private museum, the Museum of Old and New Art (MONA) - describes by its owner as a "subversive adult Disneyland", MONA have around 300 works of art on display and the collection takes up three floors. It's guaranteed to be an impressive experience, so drive north from the Campervan Village and visit this modern masterpiece.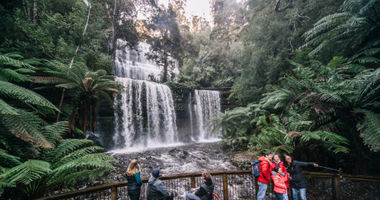 Mt Field National Park & Russel Falls
As one of the most loved Tasmania's national parks, Mt Field National Park offer a wide variety of scenic view, majestic falls and wildlife encounters. One of the popular track lead to the famous Russel Falls, the incredible walk through the fern forest is well worth-it. Just over an hour's drive from Hobart, bring your campervan there and enjoy this wonderful park at your own pace.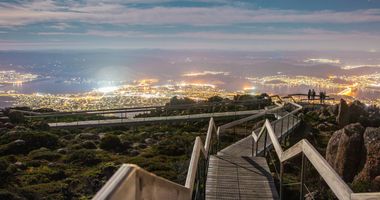 Mount Wellington, Hobart
Only 20 minutes' drive away from Hobart, the Wellington Park give you access to a sanctuary right on Hobart's doorstep. With his towers at 1271m of altitude, the view is unbelievable. You can easily drive all the way to the summit with your campervan on a sealed road or you can climb to the summit - there's no better place to go for a spectacular view of the Greater Hobart area.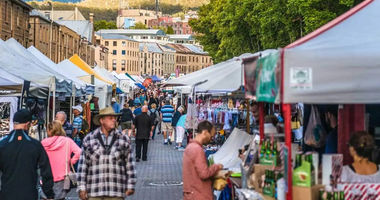 Salamanca Market, Hobart
With the vibrant ambiance, directly at the heart of the historic Hobart, the Salamanca Place is a picturesque place and a favourite location for locals and visitors. Every week, an outdoor market occurs at the Salamanca bringing more life, sounds and smells to Hobart's waterfront. If it's Saturday and you're in town, be sure to stop at the market for some fresh food.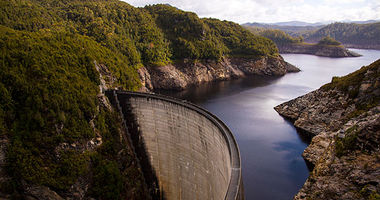 Strathgordon Dam (2 hours from Hobart)
One of the best drive to do in Tasmania with your newly hire campervan is the drive from Hobart to the Strathgordon region. This 2-hr drive will lead to the Gordon Dam, an impressive 140 metres high man-made structure that will leave you breathless. There's plenty of activity to do in the region such as hiking and kayaking but for the adrenaline junkies, it is possible to abseil down the Gordon Dam (but that's not an easy task).
Tasman Peninsula
Spectacular coastline and home of a world heritage listed convict sites, the Tasman Peninsula will appeal to everyone. An easy and pretty 70 min drive from Hobart, you'll have the chance to visit the Blowhole, the Tasman Arch, the Remarkable Cave and their newly addition, the Three Capes Track. Even more, you will be able to learn from one of the most important heritage and tourist destinations as is the Port Arthur. Make sure to make a stop in the Tasman Peninsula -also, there's campground right outside the park for your campervan if you are planning to stay more than a day.