Campervan Village Brisbane
Address
100 Longlands Street, Woolloongabba QLD 4102
Phone
1800 121 421
Email
info@campervanvillage.com
Opening Hours

| | |
| --- | --- |
| mon - fri: | 9am - 3pm |
| sat: | 9am - 11am |
| sun: | CLOSED |

Availability

pickup

dropoff

After-hours allowed

pickup

dropoff
*After hours pickup or dropoff may incur additional fees.
Welcome to Campervan Village's Woolloongabba depot, in the city of Brisbane! Situated in this vibrant suburb, our depot is perfectly positioned to kickstart your adventure in one of Australia's most exciting cities. Brisbane, the capital of Queensland, offers a unique blend of cosmopolitan charm and laid-back atmosphere that beckons travelers from around the world.
Hiring a campervan from our Woolloongabba depot opens the door to a world of possibilities in and around Brisbane. Known for its sunny climate and friendly locals, the city sets the stage for a memorable journey filled with exploration, relaxation, and exhilaration.
As you embark on your campervan adventure, you'll find that Brisbane's surrounding regions offer an array of diverse experiences. Head south to the Gold Coast, known for its golden beaches, thrilling theme parks, and vibrant nightlife. Travel north to the Sunshine Coast, where you can explore the natural beauty of Noosa National Park or catch some waves at popular surf spots.
Nature enthusiasts will be delighted by the nearby national parks, such as Lamington National Park and its lush rainforests, or Moreton Island, a picturesque island paradise just a short ferry ride away. For the ultimate bucket-list experience, venture further north to witness the iconic Great Barrier Reef, teeming with marine life and breathtaking coral formations.
At Campervan Village, we take pride in providing well-maintained and fully-equipped campervans, ensuring your comfort and convenience throughout your journey. Our friendly staff at the Woolloongabba depot are ready to help out with any questions you might have before setting out on your journey.
Embrace the spirit of adventure and discover all that Brisbane and Queensland have to offer with the freedom and flexibility of a campervan. Start your unforgettable journey from our Woolloongabba depot and create memories to last a lifetime.
Plan your Brisbane roadtrip today
Book online of contact our friendly travel team today to discuss your dream road trip in Brisbane. We'll help you out with availability, a quick quote or to book your camper today.
Give us a call today.
1800 121 421 from Australia
0800 445 981 from New Zealand
Places to check out around Brisbane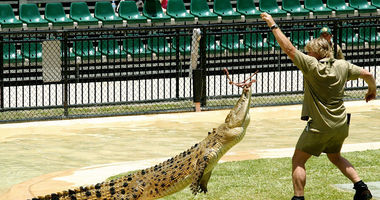 Australia Zoo
Australia Zoo is an exciting and educational destination located in Queensland, Australia. Founded by the legendary "Crocodile Hunter" Steve Irwin, this zoo is home to a wide variety of animals, including exotic tigers, gorillas, and elephants, as well as native Australian species like kangaroos, wallabies, and crocodiles. The zoo is dedicated to conservation and offers a range of activities for visitors, such as animal encounters, keeper talks, and wildlife shows. Come and experience the thrill of seeing these amazing animals up close and learn more about the importance of protecting endangered species. Furthermore, the route to get there is great and an easy trip to do with your campervan - just 1 hour north of Brisbane via Bruce Highway.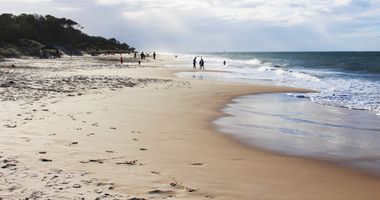 Bribie Island - Pumicestone Passage
Accessible by bridge, Bribie Island is a perfect getaway for a day to the beach, for a camping or simply, for cruising up and down the Puminestone Passage. The natural beauty of the island will hit you as soon as you cross the bridge. Once you've hired your campervan, head north to Bribie Island and experiment this charming region.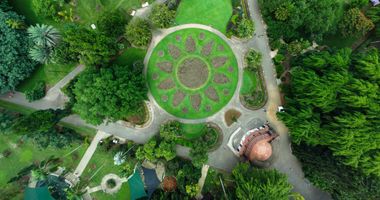 City Botanic Gardens
Situated right in the middle of the city, the City Botanic Gardens of Brisbane provide a lush green haven for you. With a mix of rainforest glades, ancient trees and exotic species, the park is the perfect inner-city urban getaway.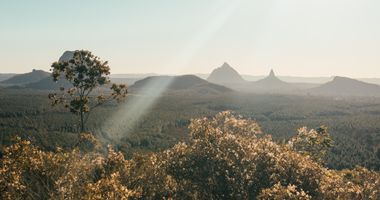 Glass House Mountains
For a wide range of level, the Glass House Mountains National Park is a great destination for bushwalking and hiking on the Queensland's Sunshine Coast. Located north of Brisbane, the Glass House Mountains are a group of hills that rise abruptly from the coastal plain - after spending time in the national park, there are still several places to discover in the area with your campervan.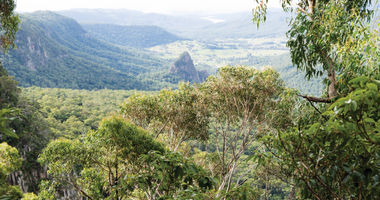 The ancient Gondwana rainforest
One of Australia's most important ecological sites, Gondwana rainforest is a popular destination in the state of Queensland. Within the parks, it is possible to hike, climb and camp while witnessing the abundance of rare and endangered wildlife - this rainforest is a must-see so bring your newly hire campervan and explore this wonderful place.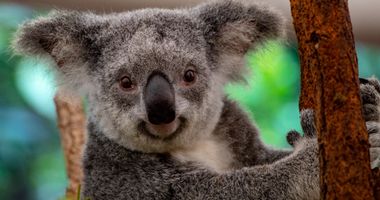 Lone Pine Koala Sanctuary
As the world's first and largest koala sanctuary, Lone pine is a must-see place in Brisbane and a perfect first destination for you and your campervan. You can hand-feed kangaroos and wild lorikeets, and hold one of the cutest Australian animal, the koala. Relax and enjoy some good time while being surrounded by the wildlife of the sanctuary.
Mount Coot-tha
The best view of the city is at the Brisbane Lockout of the scenic Mt.Coot-tha - it is a favourite destination for locals and for visitors. From there, you will have the best sunrise and sunset views in Brisbane. Only 7 km from the CBD, there is plenty of free offstreet and onstreet parking at the lockout for your campervan.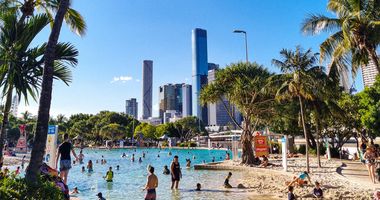 The Arbour at South Bank & Wheel of Brisbane
The South Bank district of Brisbane is a vibrant area with plenty of attraction and shop to spend a day at. You'll find in South Bank the Aquativity water park for the warm days, the Wheel of Brisbane for a great view, (during winter) an outside snow playground, nice pubs & bars and plenty of museum. Finally, near the Queensland Museum & Science Centre, there's the big Brisbane sign with the city skyline as a background for a great photo spot.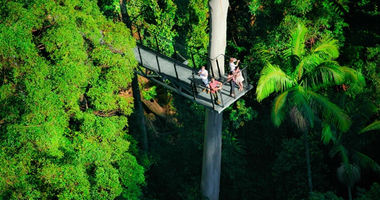 Tamborine Rainforest Skywalk
Situated in the beautiful Gold Coast Hinterland, the Tamborine Rainforest Skywalk is a one and a half km walking experience through a rainforest. The whole experience takes approximately 45 minutes and will make you see the pristine beauty of the lush rainforest from an altitude point of view.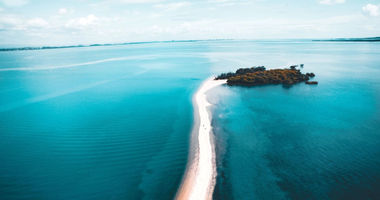 Wellington Point
Wellington Point is a village located on the tip of a peninsula, where seaside and beaches are complimented by friendly locals. This location is a well-known spot for fishing, boating and various water sports - it's also a great place to have picnic with a seaside view - a perfect location for your campervan.
Also check out one of the most unique walks in Queensland, across the spectacular low-tide sand bridge to King Island