Address
28 Charles Street, Bentley WA 6102
Phone
1800 121 421
Email
info@campervanvillage.com
Opening Hours

| | |
| --- | --- |
| mon - fri: | 9am - 3pm |
| sat: | 9am - 11am |
| sun: | CLOSED |

Availability

pickup

dropoff

After-hours allowed

pickup

dropoff
*After hours pickup or dropoff may incur additional fees.
Perth, Western Australia's capital city, is a fantastic destination for a campervan road trip. The city is home to beautiful beaches like Cottesloe Beach, which boasts clear blue waters and white sandy beaches, making it the perfect spot for swimming, sunbathing, and relaxing. Additionally, King's Park and Botanic Garden, a 400-hectare park offers breathtaking views of the city, and a wide variety of native plants and wildlife. Hike to the top of the park's many hills for panoramic views of the city. The Perth Cultural Centre, home to a number of museums and art galleries, is also a must-see destination. Northbridge, Perth's entertainment district is another must-visit spot for nightlife. With so much to see and do and plenty of campervan camping spots, Perth is the perfect destination for a road trip.
Plan your Perth roadtrip today
Book online of contact our friendly travel team today to discuss your dream road trip in Perth. We'll help you out with availability, a quick quote or to book your camper today.
Give us a call today.
1800 121 421 from Australia
0800 445 981 from New Zealand
Places to check out around Perth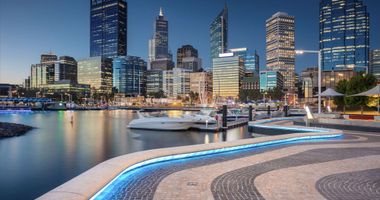 Elizabeth Quay
Before picking up your campervan at the Campervan Village depot in Perth, enjoy a nice stroll along Elizabeth Quay and around. This waterfront area is a welcoming and relaxing place - with a great mix of riverside dining and bars. So if you're looking for a nice break and a drink, stop here and relax by the river.
Kings Park & Botanic Garden
One of the world largest and most beautiful inner-city parks, Kings Park lets you enjoy sweeping views of the city skyline, the Darling Ranges and the Swan and Canning Rivers. Also, Kings Park is home to the spectacular Western Australian Botanic Garden - there's over 3,000 species of flora to see and learn about in the 400-hectare park.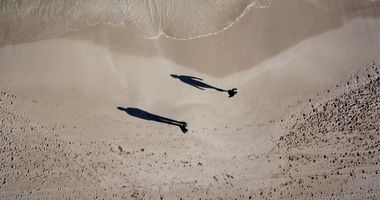 Rockingham
Only 45 minutes south of Perth, Rockingham is a great marine destination that offers beautiful long beaches, sky diving and animal encounters. From there, you can visit Penguin Island where you will see Dolphins, Sea Lions and of course, Penguins. Furthermore, there is plenty of camping areas for your campervan to camp out and really enjoy this natural playground.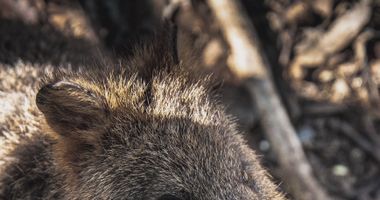 Rottnest Island
Just offshore from the city of Perth, Rottnest Island is a must see if you want to kick back on soft sand beaches, discover secluded coves and see the happiest animal in the world - the quokka. It's a perfect destination to spend a few days and enjoy an ocean view – however you'll need to take the ferry across and find somewhere to park your hire campervan on the mainland while you're on Rottnest Island.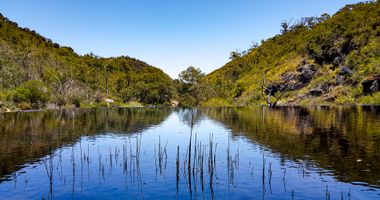 Serpentine National Park & Serpentine Falls
A nice country getaway in your campervan is the Serpentine National Park - the park is a sanctuary for an array of plants and animal (a lot of kangaroos). And a 500 metre walk trail along the river leads to stunning falls, making it well worth the visit. With the freedom of a hire campervan, the Serpentine National Park is a good destination to kick off your Western Australian adventure.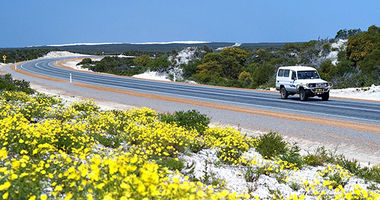 Sunset Coast Drive
From the beautiful swimming beach at Cottesloe to the windy beaches of Lancelin, the Sunset Coast Drive is a must-see trip in your hire campervan if you're in the Perth region. The drive is 130kms long and this picturesque route will bring you to great destinations such as Hillarys Boat Harbour, the Yanchep National Park, the AQWA aquarium and the straight-out-of-a-dream beaches on the Indian Ocean coast.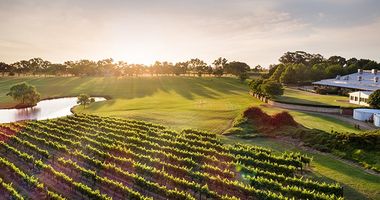 Swan Valley
If you enjoy the craft of wine-making (or you just love wine!), the Swan Valley is for you. Just north of Perth, this region is the oldest wine region in Western Australia. Follow the Swan Valley Food and Wine Trail, pickup a few bottles for your nights in your rental campervan and discover the charming villages around the valley. Swan Valley is only a 32 km loop but offers more than 150 places to fulfil your appetite and fill up on delicious wine!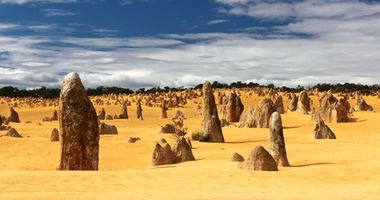 The Pinnacles
Located in Nambung National Park, the Pinnacles are beautiful naturally-formed desert sculptures. From Perth, once you have hire your campervan from Campervan Village, just head north for three hours along the Indian Ocean Drive and you will arrive at Nambung National Park. Once there, a scenic walk will lead you to the ancient limestone pillars.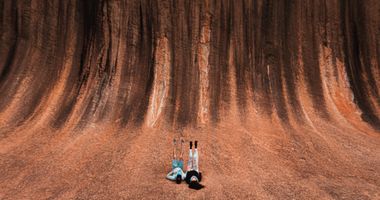 Wave Rock
110 metres long and 15 metres high, this granite cliff, 4 hours east of Perth has, over thousands of years been shaped & carved by water erosion to form an impressive wave-like shape – one of Australia's best spots for a photo. Wave Rock is connected by a loop walking track of 1 km that starts from your campervan in the car park.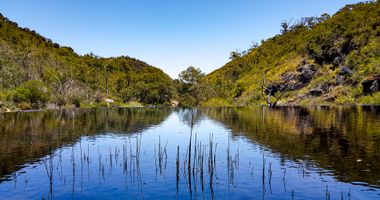 Yanchep National Park (Crystal Cave)
Located just 42kms north of Perth, the Yanchep National Park is famous for its wildlife, its cave, and its native bush flora. In this national park, you will encounter kangaroo's and koalas in their natural habitat – and if you want to be thoroughly amazed, you can visit the underground world of the Crystal Cave.