Campervan Village Exmouth
Address
10 Maley St, Exmouth WA 6707
Phone
1800 121 421
Email
info@campervanvillage.com
Opening Hours

| | |
| --- | --- |
| mon - fri: | 9am - 3pm |
| sat: | 9am - 11am |
| sun: | CLOSED |

Availability

pickup

dropoff

After-hours allowed

pickup

dropoff
*After hours pickup or dropoff may incur additional fees.
Exmouth, located in the North West of Western Australia, is a great destination for a campervan road trip. The town is known for its stunning beaches and marine life, making it a popular spot for swimming, snorkelling, and diving. One of the must-see destinations in Exmouth is the Ningaloo Reef, a World Heritage-listed site that is home to an abundance of marine life, including whale sharks, manta rays, and turtles. Visitors can take a boat tour to the reef and go snorkelling or diving to witness the vibrant coral and marine life up close.
Another popular spot is the Cape Range National Park, where visitors can hike through the rugged and remote landscape, and discover hidden beaches and gorges. The park is also home to a wide variety of wildlife, including kangaroos, emus and rock wallabies.
Plan your Exmouth roadtrip today
Book online of contact our friendly travel team today to discuss your dream road trip in Exmouth. We'll help you out with availability, a quick quote or to book your camper today.
Give us a call today.
1800 121 421 from Australia
0800 445 981 from New Zealand

10-Day Campervan Road Trip from Exmouth to Perth
Welcome to the ultimate 10-day campervan adventure from Exmouth to Perth! This journey promises a perfect blend of natural wonders, coastal beauty, and unforgettable experiences. Let's hit the road and explore the stunning landscapes of Western Australia.

Exploring the Wild West: 3 Incredible Road Trip Routes on Australia's West Coast
Australia's west coast is a vast and untamed wilderness that promises road trip enthusiasts an unforgettable journey. With its rugged landscapes, pristine beaches, and diverse wildlife, it's a playground for those seeking adventure and natural wonders. If you're planning to explore this incredible region, there's no better way to do it than in a campervan or 4WD vehicle. Here are three awe-inspiring road trip routes that will take you on an unforgettable adventure along Australia's wild west coast.
Places to check out around Exmouth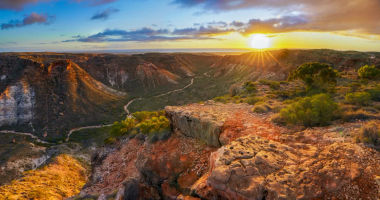 Cape Range National Park
Cape Range National Park is a wilderness paradise located just outside Exmouth. It offers a diverse range of outdoor activities, including hiking, wildlife spotting, and camping. Explore deep canyons and swim in refreshing gorges for a true outback adventure.
The park is also home to a rich variety of flora and fauna, making it an excellent destination for nature enthusiasts. With its rugged landscapes and stunning vistas, Cape Range National Park is a must-visit for anyone looking to experience the natural beauty of Exmouth.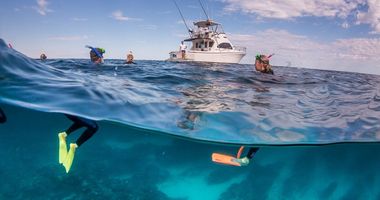 Exmouth Fishing Charters
Exmouth Fishing Charters offer an exciting opportunity to experience the bountiful marine life of the Ningaloo Reef and the pristine waters of Exmouth. Led by experienced local guides, these charters cater to both beginners and experienced anglers. Enjoy a day on the water, take in the coastal scenery, and try your luck at catching marlin, sailfish, mahi-mahi, and more. All equipment is provided, making it a hassle-free way to explore Exmouth's fishing opportunities.
To book an Exmouth Fishing Charter and confirm availability, pricing, and options, contact the charter company in advance. Whether you're looking for a leisurely day of fishing or a thrilling adventure, these charters offer a fantastic way to make lasting memories in Exmouth.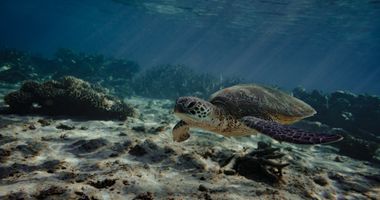 Ningaloo Marine Park
Ningaloo Marine Park is a natural wonder located a short drive away from our rental depot in Exmouth. This UNESCO World Heritage site is known for its pristine coral reefs and abundant marine life. Visitors can enjoy a host of activities such as snorkeling, scuba diving, and swimming with gentle giants like whale sharks and manta rays. From Exmouth, head north on Murat Road and follow the signs to Ningaloo Marine Park. It's approximately a 30-minute drive from the town center. Explore the underwater beauty of Ningaloo Marine Park and discover its vibrant coral gardens and diverse marine species. It's an unforgettable experience for nature enthusiasts and adventure seekers alike.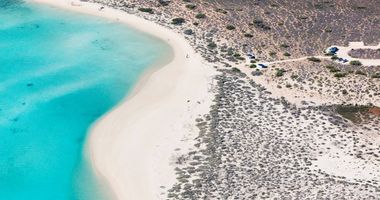 Turquoise Bay Beach
Turquoise Bay Beach in Exmouth is a pristine white-sand beach known for its crystal-clear turquoise waters. It's an ideal spot for sunbathing, swimming, and snorkeling. The beach is part of the Ningaloo Marine Park, offering stunning underwater views and easy access to vibrant coral reefs.
Nestled within Cape Range National Park, Turquoise Bay Beach also provides excellent hiking opportunities along the rugged coastline. Visitors can explore the unique marine life and experience the tranquility of this breathtaking natural wonder.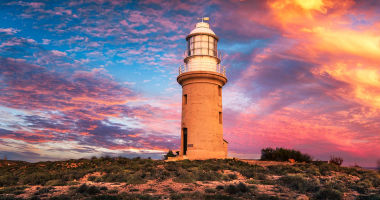 Vlamingh Head Lighthouse
The Vlamingh Head Lighthouse stands proudly on the tip of the North West Cape, offering breathtaking panoramic views of the Indian Ocean and the rugged coastline. Visitors can explore the lighthouse and enjoy the stunning sunset views over the ocean.
A visit to Vlamingh Head Lighthouse is not only an opportunity to appreciate its historical significance but also a chance to witness the beauty of the surrounding landscape, making it a must-visit spot in Exmouth.