Campervan Village Alice Springs
Address
29 Stokes St, Ciccone NT 0870
Phone
1800 121 421
Email
info@campervanvillage.com
Opening Hours

| | |
| --- | --- |
| mon - fri: | 9am - 3pm |
| sat: | 9am - 11am |
| sun: | CLOSED |

Availability

pickup

dropoff

After-hours allowed

pickup

dropoff
*After hours pickup or dropoff may incur additional fees.
Campervan Hire Alice Springs
Welcome to our Campervan Village depot in Alice Springs! Located on Stokes Street in the charming suburb of Ciccone, our depot is the gateway to exploring the rugged beauty and cultural richness of Australia's Red Centre.
Alice Springs, nestled amidst the vastness of the Northern Territory's outback, offers a unique and unforgettable experience for travelers seeking an authentic Australian adventure. Hiring a campervan from our Alice Springs depot allows you to embrace the excitement of travel, as you embark on an extraordinary journey through this captivating region.
Ciccone, a welcoming neighborhood in Alice Springs, sets the stage for your outback exploration. The area's friendly locals and relaxed ambiance provide the perfect introduction to the Red Centre's warm hospitality.
As you venture from Alice Springs in your campervan, you'll discover iconic landmarks such as Uluru and Kata Tjuta. These ancient monoliths, rising dramatically from the desert landscape, hold immense cultural significance for the indigenous people of Australia. Experience the awe-inspiring sunrise and sunset over Uluru, a sight that will leave a lasting impression on your soul.
Explore the rugged beauty of Kings Canyon, with its breathtaking sandstone walls and scenic hikes, offering unparalleled views of the outback below. Engage with the unique flora and fauna of the region, and witness the stunning starry night skies that stretch infinitely above the Red Centre.
At Campervan Village, we offer well-equipped and reliable campervans, ensuring your comfort and safety throughout your journey. Our friendly team at the Alice Springs depot is eager to assist you with any inquiries and provide valuable insights to help you create an unforgettable and authentic outback experience.
Start your Red Centre adventure from our Alice Springs depot on Stokes Street in Ciccone, and let the timeless landscapes and rich cultural heritage of the Northern Territory leave an indelible mark on your travel memories.
Plan your Alice Springs roadtrip today
Book online of contact our friendly travel team today to discuss your dream road trip in Alice Springs. We'll help you out with availability, a quick quote or to book your camper today.
Give us a call today.
1800 121 421 from Australia
0800 445 981 from New Zealand
Trip Ideas for Alice Springs

Travel Ideas for Your Next Aussie Adventure
Whether you're looking for sun, sea, sand or snow, Australia has a scenic road trip destination to suit everyone. From day trips to extended journeys, here are 10 top picks to consider for your next getaway.
Places to check out around Alice Springs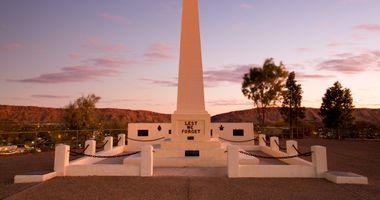 Anzac Hill
For panoramic views of Alice Springs and the surrounding area, a quick drive to Anzac Hill is highly recommended, especially during sunrise or sunset. It's a moment of reflection and a chance to capture some of the best views of Alice Springs, making it a perfect short stop in your campervan journey.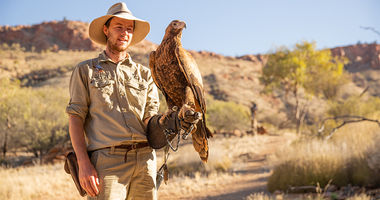 Alice Springs Desert Park
Just a short 10-minute drive from the town center, Alice Springs Desert Park provides an immersive experience into the desert's wildlife, plants, and culture. It's a must-see for anyone interested in the local flora and fauna, offering a comprehensive understanding of the desert environment and a chance to see native animals like kangaroos and birds of prey.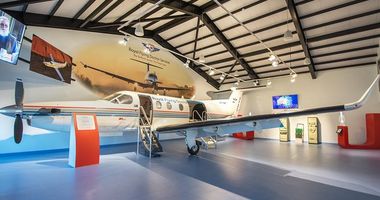 Royal Flying Doctor Service Museum
Just a few minutes from the town center, the Royal Flying Doctor Service Museum offers insight into the challenges of healthcare delivery in the outback. It's a fascinating stop to learn about the innovative solutions that have been developed to provide medical care to remote areas of Australia.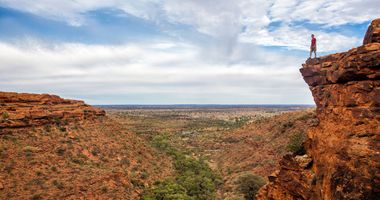 Kings Canyon
Kings Canyon is located in Watarrka National Park, about a 4-hour drive from Alice Springs. The journey there takes you through quintessential outback scenery, and upon arrival, you can hike the Rim Walk for breathtaking views of the canyon's 100-meter-high sandstone walls and palm-filled crevices.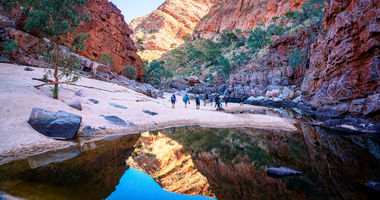 The Larapinta Trail
For a more extended hiking adventure, consider tackling a section of the Larapinta Trail, which stretches over 223 kilometres along the West MacDonnell Ranges. The trailheads are easily accessible by campervan, and the journey offers a deep connection with the ancient landscape. It's an epic hiking adventure that's perfect for those looking to immerse themselves in the natural beauty of the Australian outback.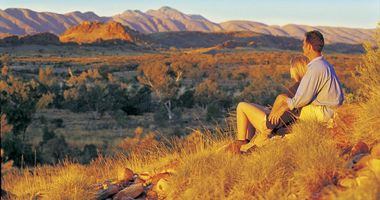 MacDonnell Ranges
For those who love the great outdoors, the MacDonnell Ranges are a must-visit. Stretching out for hundreds of kilometres on both sides of Alice Springs, the ranges offer hiking trails, swimming holes, and camping spots. The drive through the ranges in your campervan will reveal a variety of landscapes, from rugged cliffs to serene waterholes.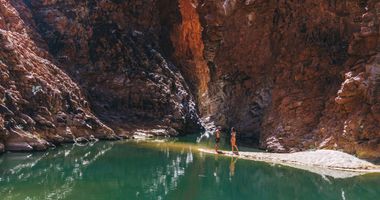 Tjoritja / West MacDonnell National Park
Tjoritja / West MacDonnell National Park is home to many natural wonders like Ormiston Gorge, Ellery Creek Big Hole, and the Ochre Pits. The park is easily accessible by campervan and offers opportunities to swim in natural pools, hike scenic trails, and learn about Indigenous culture. It's a fantastic destination for those looking to explore the natural beauty and cultural richness of the Australian outback.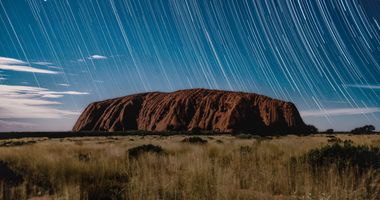 Uluru-Kata Tjuta National Park
One of the most iconic destinations is Uluru-Kata Tjuta National Park, about a 4.5-hour drive from Alice Springs. As you traverse the vast, red-earth landscapes, you'll be awestruck by the sight of Uluru and Kata Tjuta rising dramatically from the desert floor. These formations are not just visually stunning but also hold deep spiritual and cultural significance, especially at sunrise and sunset when the rocks seem to glow.